Submit a Review
Thank you for your business!
Your feedback is very important to us. To leave a review, please click on the Submit a Review button and fill out the form.
Submit a Review
Feedback Received From Our Happy Customers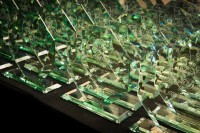 Sand Dollar Awards
The Collier Building Industry Association annually presents our Sand Dollar Awards to the best of projects in commercial and residential building, development, interior design, remodeling, advertising and sales. SWFL Marketing Group has been a valuable resource in supporting our team with sourcing, personalizing, delivering and setting up our Sand Dollar awards. As a trade association we rely on our vendor assistance to ensure each program we offer is of the highest quality and SWFL Marketing Group delivers what we need every time.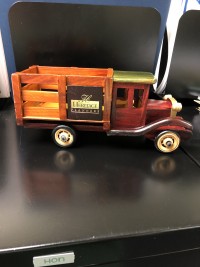 Christmas Delivery Trucks
We are so excited to be able to give some of our clients this fun and unique personalized gift this year! SWFL Marketing Group always comes up with new and creative gift ideas and promotional items for all of our needs! Thanks so much and cant wait to place another order with you!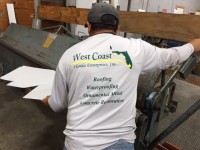 Harold Martin, Chief Compliance Officer
West Coast Florida Enterprises
October 31, 2018
Work Wear
We have been working with SWFL Marketing Group for a number of years. They provide us with all of our logo employee shirts and promotional merchandise. Martin and his staff are great to work with and they take good care of their customers. We are extremely satisfied with their products and services and will continue to work with them for all of our logo needs.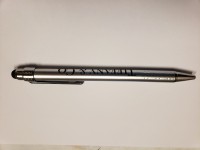 Tiffany & Co. Naples
October 31, 2018
Pen for our store
The pens arrived yesterday and they are GORGEOUS!!! The team is going to go head over heels for them! Thank you so much for capturing exactly what we wanted. Please reply at your earliest convenience so I can issue you payment in a timely manner. Thank you!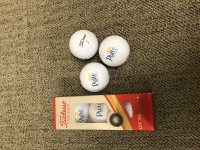 Branded Golf Balls
I absolutely love working with Martin and Karen at SWFL Marketing Group. They are always on top of my order and they truly take the time to listen to me as the client and help us find exactly what we are looking for. They make the whole process effortless and keep me informed as to the status of my order and when it should arrive. I know when I order with them I'm getting a great product and get customer care.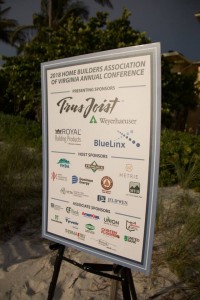 HBAV Sponsor Sign
We are very thankful to have been referred to SWFL Marketing for our banner and sign needs. Amy was a pure joy to work with and all of our signs and banners were delivered to the resort before we arrived. If we are ever holding another conference in Naples, we will definitely use SWFL Marketing!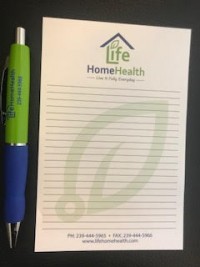 Staffing Specialist
I reached out to SWFL Marketing Group looking for pens and note pads. Martin came in to drop off samples. We had found another pen that was NOT in their catalog and as I was preparing to order elsewhere when Martin made that follow up phone call to see if a decision was made. When I told him about the new pen I found and I could NOT find in anywhere on the internet, he and Karen found it...CHEAPER! They were very efficient with communicating and the ordering process. Amy the Graphic Designer was great as well! We received the note pads and pens by the date as requested, actually probably even a day sooner. I would definitely recommend this company.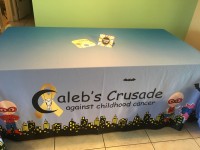 Amazing as always
We are regular customers of Swfl marketing group and are always pleased by the professionalism in service and quality in their products. We recommend swfl marketing group to everyone who asks about our promotional material. Well done guys. Keep up the great work!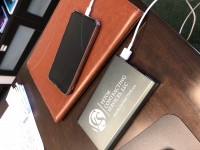 SW FL Marketing is the #1
SW FL Marketing is hands down the best company to work with for all your personalization needs. From start to finish they are attentive, understand what you are looking for, and work with you to design whatever fits your needs. From clothing, to consumer products, gifts etc. if you need it personalized they are the ones to use. The products are amazing, they care about you, and are always there if you have any questions. The way they handle each client is remarkable and SW FL will always have our business.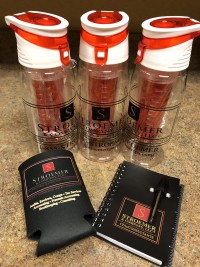 FL
I have nothing but great things to say about SWFL Marketing Group. Not only are their products great quality, but their customer service is amazing. I couldn't thank Martin and Karen enough for all they do for Stroemer & Company.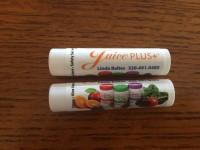 Lip Balm
The colors and design look wonderful! I can read all the important information Plus the citrus spf15 with aloe veraGludesonand tastes great! SUPER PLEASED!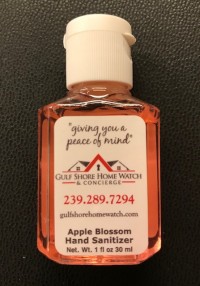 Charity Goodies
Very happy with the Apple Blossom Hand Sanitizers I ordered from SWFL Marketing Group. SWFL Marketing Group did a remarkable job on the placement of the logo and tag line. The order was seamless and prompt. These hand sanitizers are a donation for goodies bags for a Breast Cancer Awareness event in March. I wish for a successful event and hope the ladies love my gift. Thank you to the team at SWFL Marketing Group.
Very Satisfied
SWFL Marketing Group handles all of our specialty needs. There is no reason to go anywhere else. Martin, Karen, and Amy are great! They can find anything. We are most pleased with our new custom made hard hats. We give them 5 plus stars!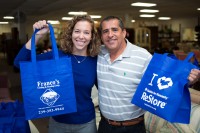 I Heart ReStore totes sponsored by Franco's Cooling & Heating
We're very happy to have worked with the team at SWFL Marketing Group! They were very responsive and worked quickly to get us samples of tote bags (and there are A LOT of different tote bags out there), designs and the finished product in hand. The product is high quality for an affordable price. We tasked Amy with a tough job of turning a 7 color logo into a black and white and she nailed it!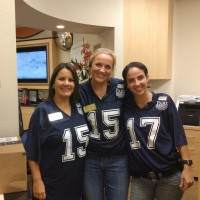 Team Jerseys in use at our office
We recently engaged the team at SWFL Marketing Group to find a team jersey that our office staff could wear at regular team training sessions and at dress down days while still retaining a professional image. They located a suitable item and had it decorated and personalized for each team member and now we have a jersey for all of our team members. We really love how SWFL Marketing Group works to get the best possible fit for our objectives, budget, audience and time frame.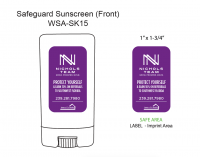 $500 investments nets $8000 income
I ordered sunscreens to hand out to REALTORS from other states at our National Convention. It said basically send me your referrals and get a 30% referral fee-
I just received a lead on a buyer looking to spend up to $400,000.
I hope the other 399 sunscreens pay off so handsomely 🙂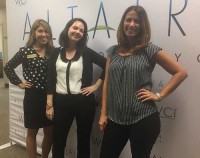 Thank you all!
Hello Martin and your incredible team, Adele here!
I just wanted to reach out to thank you for such an amazing quality product, including how your team expedited Castle groups needs. It is totally awesome!
Your product is definitely going to compliment our VIP event at Ataira on the 24th.
Once Again, thank you for your exemplary professionalism and an amazing product!

ProActive Insurance Management
August 10, 2017
SUPER!
Martin and his team are SUPER! Shirts and embroidery are HIGH QUALITY! Marketing pieces are Great. Quick delivery and Pricing is competitive, with LOCAL Accountability! I don't want to deal with some web site for a business far, far away... Martin and his team at SW FL MARKETING are a SUPER VALUE!

So happy!
Thank you to Martin and Karen for always taking care of us and getting us just the item that we need! I always enjoy working with SWFL Marketing Group, great customer service, and good prices.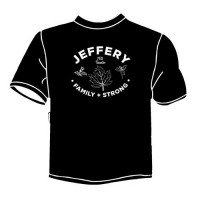 Event Organizer
July 15, 2017
Already I'm thinking of things that I missed in the Minutes!
Everyone loved the T-Shirts. Thanks to Martin and Karen for all their work, worries and efforts.
Thanks to Jacquie for the design.
We will certainly do it again for next reunion.
We need an order of 24 for the minimum run. Missed it this reunion? Let Martin and Karen know if you want one. Perhaps get a different color this time!
Thanks again. Family Strong!

GM – sports team
June 28, 2017
I just wanted to thank you as Delroy, myself and all the Kids were really impressed with the Camp tees
Very nice!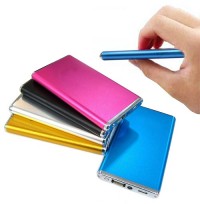 Business Development Coordinator- Financial Advisor
May 17, 2017
Hi Karen,
We just received the iChargers they look AWESOME!!!!
Thanks,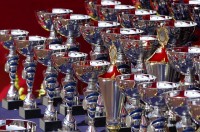 Assistant to University Dean - April 2017
April 29, 2017
I received the awards; they look great!
Thank you,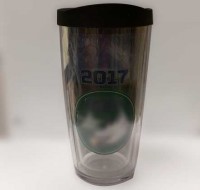 Director of Operations- Retirement Residence
April 20, 2017
Can every other vendor I work with work as quickly as you do?? It would make my life so much easier. Thanks!!

Marketing Manager – Healthcare
March 15, 2017
Hi Martin.
Thanks for checking in! I hope to get started with the next batch of orders early next week. These will be items needed for conference first week of May.
The Career Fair was a huge success and everything looked fabulous! I am truly thankful for your team's support and their time and effort in helping to make it happen. I want you to know that I really do genuinely appreciate it.

Park Family & Cosmetic Dentistry
November 17, 2016
Thrilled!
Karen and Martin have done a GREAT job at keeping up with our growing practice while still serving us with that personal touch. They offer assistance with creative ideas, usable products, and the latest gadgets. We just love to open our shipments and see the finished products! Amy has been an amazing help to us and is extremely talented and gifted with designing. We now have new business cards, letterhead, and email signatures thanks to her expertise! Thank you SWFL Marketing Group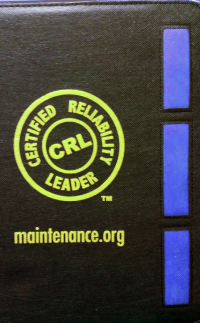 The Association for Maintenance Professionals
April 30, 2014
The padfolios look great. Thanks!

Air Conditioning & Heating
April 26, 2014
Hi Martin, Thank you again for getting the beach towels to us so quickly and such short notice. They were such great quality and the logo looked wonderful.

A/C Services
November 7, 2013
Thank you for helping us with our first postcard mailing earlier this year! With just two mailings to the same locations within 30 days, we won two new fantastic customers!
We are working on a new postcard for January and February mailing in 2014 and look forward to your help in developing our marketing strategy in the coming years.
Also, we are pleased with the polo shirts we purchased from you. They were just what we were looking for at a very reasonable price.

Financial business
September 20, 2013
Received the banner stands today, love them, please order 2 more!

Landscaping - Fort Myers, FL
September 18, 2013
WOW, that was fast!! I just received the pens. The logo is huge. It really stands out.

Golf fundraising organizer - Fort Myers, FL
August 26, 2013
Everything was great - thanks again for all your work and donation!! We will get the invoices paid asap.

Non profit - Fort Myers, FL
August 13, 2013
Hi Martin!
I just wanted to let you know we just received the shirts and they look great!

Sports Training - Fort Myers, FL
June 27, 2013
Hi Martin, I'm sorry I was not here when you brought the medals in. They look fantastic! Thank you so very much for making these happen.

Hi Martin, I thought I'd mention again that I looked at the cup holders before I sent them to the agents and they were really REALLY nice. Great job!
And I appreciate your thoroughness too. 🙂

Property Manager - Fort Myers, FL
May 22, 2013
We got the calendars this afternoon and they look GREAT. Thanks.

Spa & Fitness - Fort Myers, FL
February 16, 2013
Martin, You are amazing and we love doing business with you! Thank you for the goodies!

Education - Fort Myers, FL
February 4, 2013
T-shirts look great! We will be using you again. I have approved the original invoice for payment. We will be doing additional T-shirts in May.
Thanks for everything!

Financial Group - Naples, FL
January 28, 2013
The umbrellas are beautiful. They will get delivered to the event (which is 3/29) later this afternoon.....thank you so much for your help. We are attending the event so we will hear the feedback!!

Construction - Fort Myers, FL
January 25, 2013
Got the pens, I LOVE THEM!!!!!!!!!!!!!!!!!!!!!!!!
thank you so much!!!!!!!

Education - Fort Myers, FL
January 25, 2013
I wanted to let you know that the banners are BEAUTIFUL! We love them!
Thank you so very much!

Automotive, Fort Myers, FL
January 24, 2013
Thanks for getting back to me the shirts were a big hit. Thank you and Karen for your help, and when we get ready to do the engraving I'll be sure to give you a call. Thanks again.

Not for profit, Fort Myers, FL
January 24, 2013
The coffee mugs just arrived; that was really fast. They look terrific! Many thanks for everything!