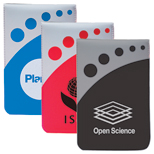 These products are very popular for their good quality and easy affordability. We bring you an extensive range of promotional stationery ranging from adhesive and non-adhesive cubes and pads, promotional padfolios, jotters, notebooks and sticky notes to many other such products.
We use excellent quality paper in our promotional stationery items to ensure that you get your money's worth. Choose the stationery, imprint them with your logo, company name, and contact numbers to garner repetitive exposure. Many of our stationery items like the Eco Jotter with Recycled Eco Pen and Bic® notepads are available at discount rates.
Check out the On Sale Items category for more information. Scribble towards success!