Remote working can be difficult, especially due to the Corona Virus pandemic. The amount of employees working from home has risen drastically since March and it is estimated that 56% of the U.S. workforce holds a job that is compatible (at least partially) with remote work. Currently, only 3.6% of the employee workforce works at home half-time or more (Global Workplace Analysis, 2020). It stands to reason that employees that now feel comfortable with working from home will continue to do so, even after the point at which it is required. According to the Global Workplace Analysis study, approximately 25-30% of the workforce will be working from home, at least partially, by the end of 2021 (Global Workplace Analysis, 2020).
So, how can you join the ranks of employees who not only feel comfortable working from home, but who excel at it? The easy answer is organization and connectivity. In times past, having meetings and sharing notes and charts was really something that could only be done face-to-face, but those days are far behind us. These days, we have technology that allows us to hold virtual meetings and share notes and ideas at the touch of a button. Here at SWFL Marketing Group, in addition to our virtual meeting software, we use Rocketbook!
The Rocketbook system connects traditional handwriting surfaces with the power of the cloud. It has endlessly reusable pages, that connect with a free app to upload all your notes to a safe, and shareable, location! It makes staying in touch and staying  up to date with projects a breeze! Try out the app today with these FREE Printable Rocketbook Pages, and see if Rocketbook would work for your organization! What better way to unite displaced employees than with a branded Rocketbook to keep them organized and connected!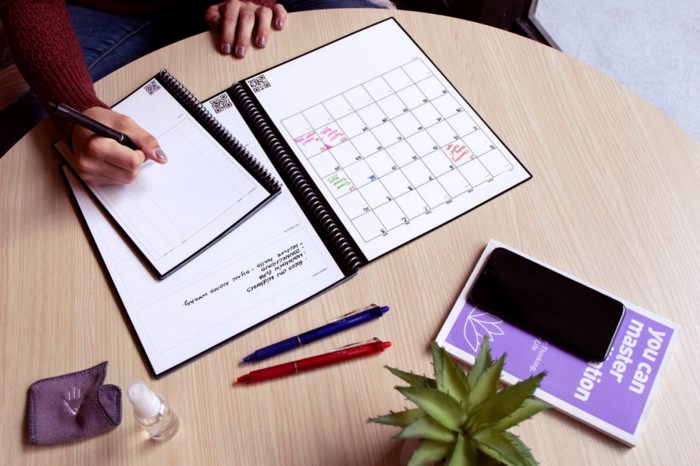 During meetings, are you used to writing on a white board, or sharing handwritten notes or ideas as you speak? Never fear, Rocketbook has something to help  you with this as well! Using their Snapcast feature, you can live share your handwritten notes as you make them! Snapcast is a feature in the Rocketbook app that allows you to share any notebook page or whiteboard with remote teammates. It's like a website that immediately updates with new content any time you take a photo of your notes! (Actually, that's exactly what it is). Share your Sketches and Designs, Meeting Notes, or Bright Ideas with your team, as you write them (Rocketbook Launchpad, 2019). This is also a uniquely perfect tool for teachers who have virtual classrooms! Complete math problems at the classes pace or make Khan Academy style videos to assist your students with complex problems! The possibilities are endless!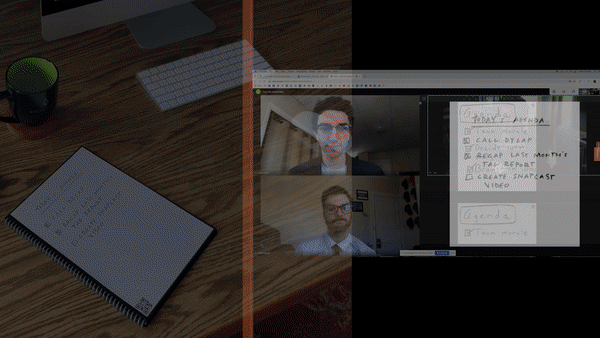 Rocketbook has taken the retail world by storm, with over 2 million notebooks being used worldwide currently! These useful products can be found in retail stores like Walmart, Michaels, and Amazon. Now, after being showcased at our national industry association trade show; companies can custom brand a Rocketbook with their logo for their employees and customers to use!
Whether you are looking to thank your employees for their dedication or are looking to streamline your work from home processes, Rocketbook is the perfect organizational tool! Contact us today to get more information, see a sample, or get your order placed!
References
Global Workplace Analysis. (2020). GlobalWorkplaceAnalysis.com. Retrieved from Work-At-Home After Covid-19—Our Forecast: https://globalworkplaceanalytics.com/work-at-home-after-covid-19-our-forecast
Rocketbook Launchpad. (2019, October 21). Medium.com. Retrieved from Tips for Working Remotely (at Home): https://medium.com/the-launch-pad/tips-for-working-remotely-at-home-1e6ce9186083
Rocketbook Launchpad. (2020, March 26). Medium.com. Retrieved from How to Use Rocketbook Snapcast with Zoom to Share Ideas: https://medium.com/the-launch-pad/how-to-use-rocketbook-snapcast-with-zoom-to-share-ideas-f88fa9952045
Rocketbook Launchpad. (2020, April 13). Medium.com. Retrieved from The Beginner's Guide To Not Sabotaging Your Life While Working From Home: https://medium.com/the-launch-pad/the-beginners-guide-to-not-sabotaging-your-life-while-working-from-home-77b5eaf5a730