With more and more people trying to travel light, cell phone wallets are the way to go! This is a must-have for people who want a functional all-in-one handy compact storage accessory that adheres snug against a cell phone.  Phone card holders can store a license, credit cards, and other kinds of IDs. It provides against loss of contents since you carry it with you almost all the time. They also come in various shapes and styles making them attractive to all ages.
If you're looking for an item that can display your logo in a vivid and useful way, a cell phone wallet can be a perfect avenue for any customization you need. The use of this wallet is so convenient and handy, thus, eliminating the need for carrying an outsized wallet. Earphones with a cord can also be stored with enough room on the expandable cell phone wallet. They come in translucent and solid designs. They also feature a 3M adhesive that the user can rely on, to ensure there is no residue on the phone. Your logo will receive greater exposure as cell phones are being used everywhere.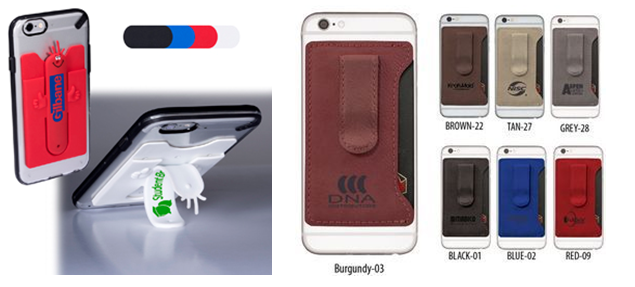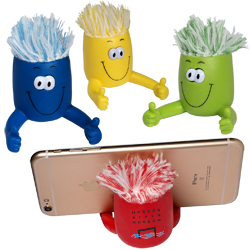 Take a look at our supply of phone wallets which are available in either silicone or leather. A vast selection of colors makes it easy to find a match for any logo designs. You can select from Goofy™ silicone pocket with one-touch instant snap to pocket doubles as a wallet.
Pair one of these convenient stick-on cards pockets with an Eye-Popping Phone Stand to remove dust from your phones and tablets and become the king in branding!
We can put your logo on your choice of cell phone wallet styles to help you get your company noticed!
SWFL Marketing Group is a promotional product focused marketing agency serving Lee, Collier, and Charlotte counties. We are happy to serve our customers in choosing custom branded merchandise and apparel to use at corporate events, including grand openings and trade shows. Check our online catalog and search tool for ideas to support your company's marketing campaign. Of course, you could call one of our team members for personal assistance or book an appointment either at your location or our office. We also encourage that samples be ordered to ensure you get the right items for your objective and to stand out in front of your audience.
Call us today to Help You Thank, Invite, Excite, Recognize and Reward Those Important to You!