It seems that it is a good idea to wear face masks when out to reduce the risk of catching or spreading the corona virus.
What I have noticed in the last two weeks in our industry is our suppliers have changed what they can offer us in response to what our customers want. In the short term that has been non logoed personal protective equipment (PPE) primarily for non-medical use. That is because it makes sense for everyone to protect themselves and others from infection and these products are not available at regular stores. Our company has placed orders for some of these based on usefulness, pricing and delivery dates to the best of our ability and we expect stock to arrive starting next week.
For photos of each of the mask products we offer, CLICK HERE and scroll down just a little!
Our suppliers are our partners who provide us with ideas to go to market and help our customers with logoed merchandise, apparel, display items, gifts and more. As businesses they have significant overhead including payroll and to keep operating they are also updating us on what we should keep in mind for us to present to our customers as well as reasons to act now. Besides the immediate needs of our customers like PPE and signage inside or outside their businesses, there will be a need very soon to recognize those on their team both internally and outside that have stood by them during this pandemic. Here is one example from this week where one of our suppliers that engraves wine bottles sent us an incredible deal for the month of April. $30 per bottle with engraving and color fill with no minimums and drop shipping available.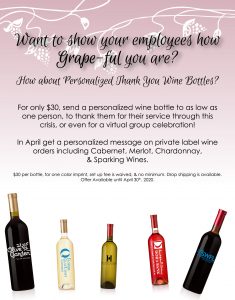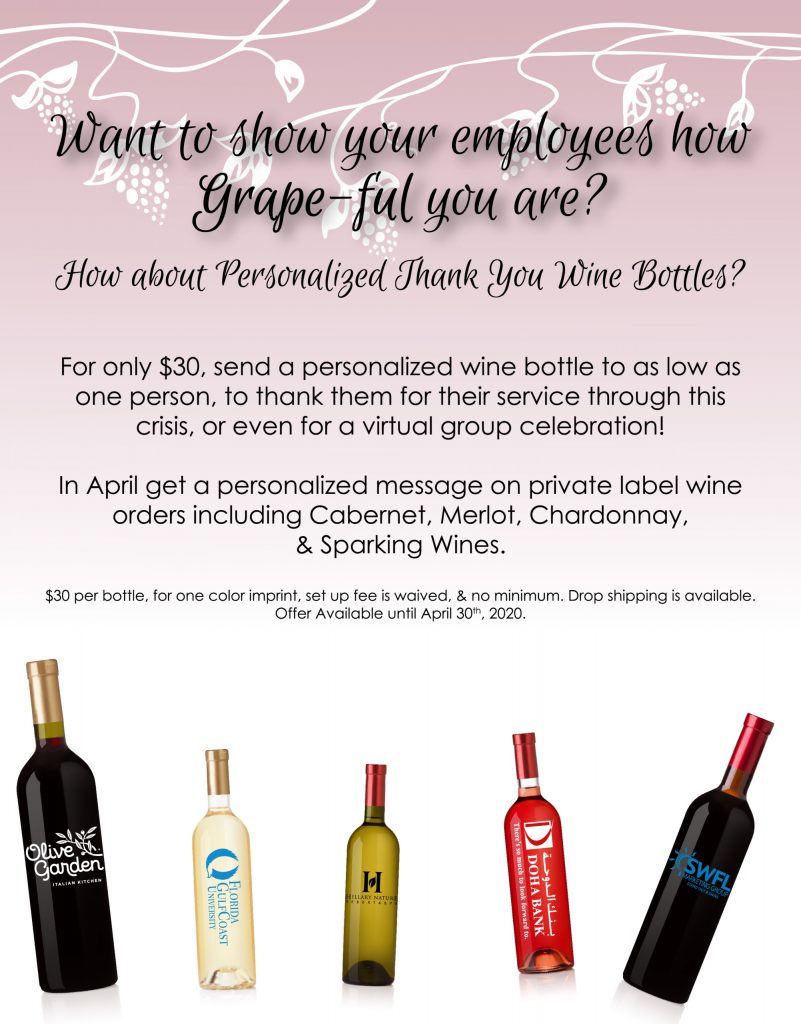 Watch this page for more ideas for your business to thank, invite, excite, recognize and reward those important to you or feel free to shoot us as email at info@swflcreative.com or you can call 239-316-9367 for Martin or 239-246-7653 for Karen. Stay safe.