Inventory is so important for our business in providing custom logoed merchandise to our customers to "Thank, Invite, Excite, Recognize and Reward those important to them". Starting in mid-March low inventory was a problem first with hand sanitizer, then with disposable masks, along with many other items; in addition to many facilities being closed. Luckily, things are opening back up now as we press on into June, and we have stock available for most things with production times becoming more reasonable once again.
As we worked hard to get as many elusive face masks as possible during the quarantine, we now find that we have far too many. We currently have thousands of disposable masks in our offices, and we need your help.
From now until June 26, when you place an order over $100, you'll get 50 face masks free!* Use this coupon to redeem this fantastic offer! (…or mention it to our team when placing your order!)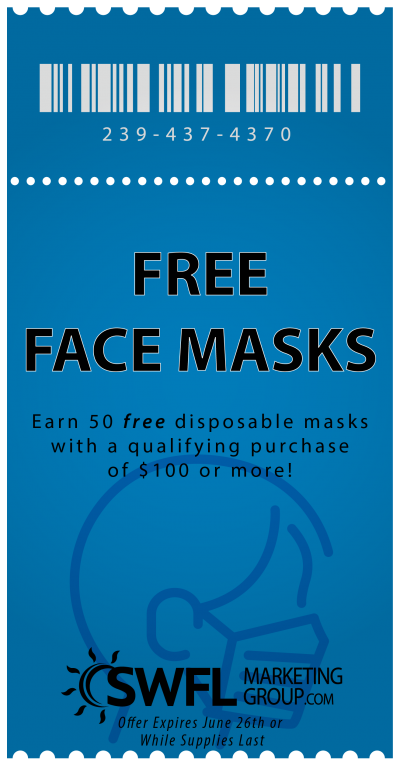 Our website has current pricing of blank and custom logoed face masks, hand sanitizers, and much more. Please check out our PPE page or use our Search Tool to find exactly what you're looking for today! Don't feel like doing the research yourself? Contact Us and we'd be happy to do it for you!
*While Supplies Last