Graphic design is the process of visual communication and problem-solving through the use of typography, photography, and illustration. Graphic design is used to convey a message or idea to a targeted audience. The advantage of using a professional graphic designer is that you will get a high-quality, unique, and custom design that will represent your business or organization in the best possible way. A professional designer will also have the necessary skills and experience to create designs that are effective and will resonate with your target audience.
Promotional Products are about more than just sticking your logo on an item and giving it away. Being thoughtful in every aspect of your campaign is essential to creating a well-rounded project that accomplishes the goals set. For example, when choosing an item as simple as a pen, one still needs to think about what the end goal is and how to best reach it.
First, is this a pen for employees to use? Or is it to be given away to high-end clients as a parting gift? Is it for a tradeshow, as something for attendees to grab from your booth? These seem like innocuous questions, but they will vastly affect the pen you end up with. If you're getting pens for internal use, you'll most likely want a middle-of-the road pen, something that isn't too expensive, but will also hold up for lots of use for your team to use! High-end clients would likely receive a nice, heavy, engraved pen- possibly personalized with their name, to really show that your business values them! A giveaway pen would be a lightweight, cost-effective option that is good for high quantities to get lots of eyes on your brand.
Regardless of the pen you choose, you'll also need to think about your logo, brand guidelines, and the imprint area of the pen itself, as well. You obviously want to choose a pen in a color that compliments your brand, but what about the logo itself? You have to make sure that the pen as a whole represents your brand in a way that you're proud of! Being aware of how your logo is used and placed is so important for brand image.
Take this pair of pens as an example! They are both the same high-end pen; a nice and heavy metal pen with a smooth writing feel. On its own, it's a pen that leaves a good feeling with its user!
The yellow pen is laser engraved, which would usually give a higher-end feel to an item as it is a lasing imprint method that looks sharp and clean. Unfortunately, no foresight was used when creating this pen, as a light-colored pen with a light imprint makes your brand unable to be seen, and gives a feeling that speed is valued over quality. This is an example of our competitor's solicitation pen programs, which are "Cheap and Quick" ways to get branded pens produced. As you can see, there is no artistic thought put into this item, as it is just 3 lines of text laser engraved into a pen.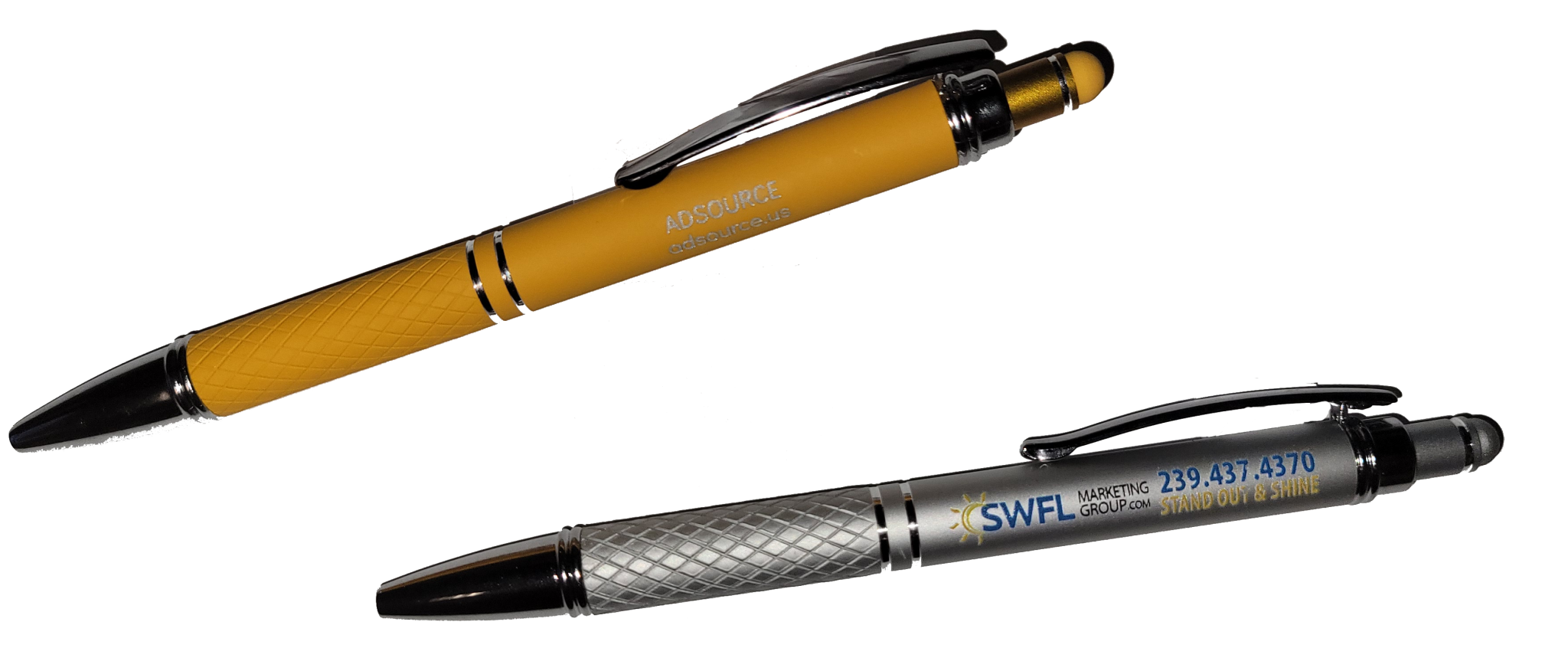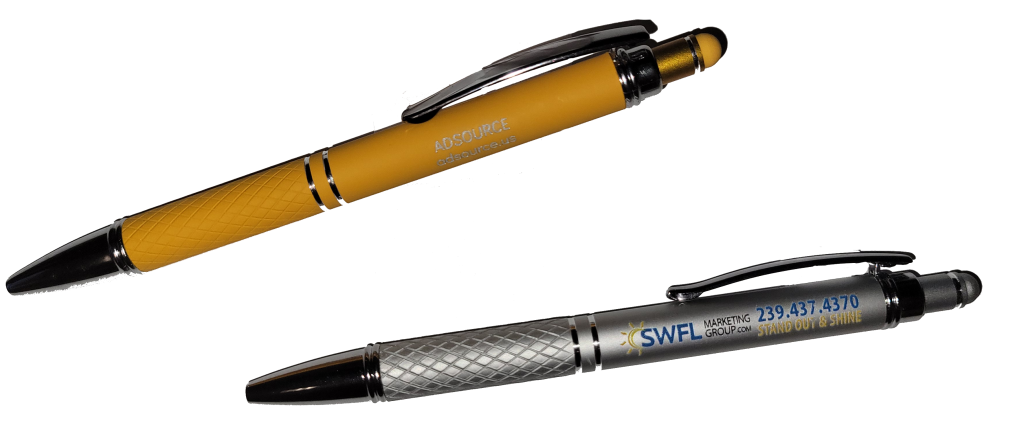 One of the many perks of having a graphic designer on your side, is that you have a trained eye looking at the project and your brand as a whole and making smart decisions about what kind of artwork would look good on what type of items. That foresight doesn't just cover colors either, it's knowing about how large text should be on banner to be legible at certain distances, knowing how big is too big or how small is too small on apparel, backdrops, or tents. Having knowledge about what kind of imprints are common for what kind of items, and knowing the difference between a unique idea, and an idea that would just increase cost- not exposure.
Luckily for our clients, SWFL Marketing Group thinks ahead and makes sure that the end product that is received will be something to be proud of! Because it's not just one thing that ensures the success of a marketing campaign, it's everything working together as a whole, cohesive unit!
Amanda, our graphic designer, is ready and excited to assist you from start to finish on your projects… so please reach out!