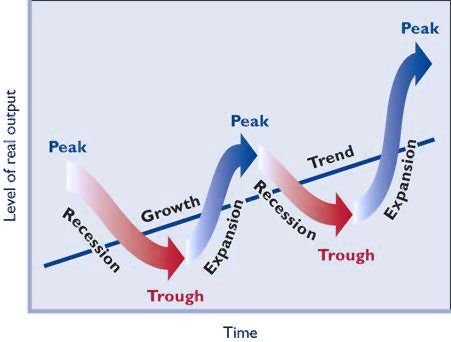 One of the greatest advantages of promotional products is that they are very flexible in terms of how they fit within a marketing campaign. Many business owners order promotional products because they enjoy being in control of their design and distribution, but sometimes they forget to think about the message that these products may convey in relation to the business cycle.National economies go through business cycles that affect entire industries and sectors. Business cycles usually present five stages of economic activity: Growth, peak, recession, bottom, and recovery. As of March 2013, the economy of the United States seems to have finished its recession stage and is now thought to be somewhere in between the bottom and recovery stages.
Matching promotional products to the stages of the business cycle is essential to avoid marketing efforts from coming across as awkward or less than thoughtful. Business cycles tend to affect people emotionally; for this reason, it is important that business owners give out adequate promotional products during the different stages.
Promotional Products and Their Messages
Billfolds and money clips are nice promotional items for men. These are products that normally convey a message of prosperity and wealth. Should a Fort Myers mortgage broker give out billfolds and money clips to clients during the recession stage of the business cycle? These may not be the best promotional products to give out during hard times. Ink pens with inspirational messages about perseverance would be more adequate. Money clips are more suitable for the growth and peak stages.
The messages that promotional products convey are sometimes subliminal. Tool kits, for example, are great promotional items to give during periods of economic recovery. In this case, the message is tacitly implied and might be unconsciously acknowledged by the recipient.
Recommended Promotional Products to Match the Business Cycle
[fusion_builder_container hundred_percent="yes" overflow="visible"][fusion_builder_row][fusion_builder_column type="1_1″ background_position="left top" background_color="" border_size="" border_color="" border_style="solid" spacing="yes" background_image="" background_repeat="no-repeat" padding="" margin_top="0px" margin_bottom="0px" class="" id="" animation_type="" animation_speed="0.3″ animation_direction="left" hide_on_mobile="no" center_content="no" min_height="none"][bulleted_list style="check"]
Inspirational calendars are good items to give out during the recession, bottom and recovery stages.
T-shirts are better during the growth stage; they can always be upgraded to polo or button-down shirts during the peak.
Coolers are suitable promotional items for the peak stage. Lunch bags are better for the growth stage.
Computer accessories make nice gifts during the expansion and recovery stages.
Executive gifts may not come across as thoughtful during a period of recession.
Some promotional products, such as candy and snacks, are adequate during any stage of the business cycle.
[/bulleted_list][/fusion_builder_column][/fusion_builder_row][/fusion_builder_container]