The beautiful summer weather in Fort Myers is perfect for relaxing in the parks or playing on the beach. It's also a great time of year to fine-tune your marketing strategy. The best promotional giveaways are the ones that your customers will really appreciate. Here are 10 thoughtful and practical ideas: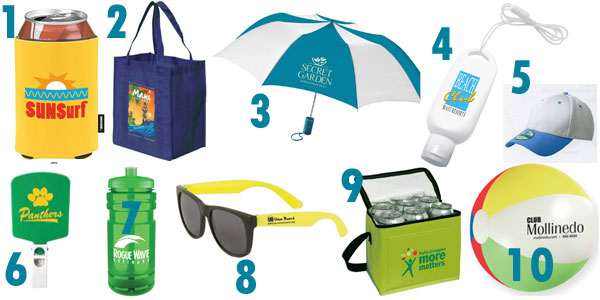 1. Koozies and zip-up bottle insulators are a must for enjoying the outdoors. They do more than keep beverages cold when it's hot outside; they work their promotional magic at picnics, ball games and even on fishing piers.
2. Canvas totes go everywhere from the beach to the mall. Branding these client-friendly items with your company's logo turns each one into an affordable billboard that travels all over town. Think of these bags as inexpensive mobile marketing.
3. Umbrellas aren't just for stormy weather. Your customers will enjoy staying cool on a hot day with these handy sun blockers. You'll enjoy the exposure that comes with your business name printed on these practical pop-ups.
4. Sunscreen is another summer staple here in Florida. It's a small gift that everybody appreciates. Available in convenient branded packaging, this is a customer favorite and a great opportunity for smart marketing.
5. Hats and flip-flops are sensible and comfortable during the summer. The fashion statement is casual, but your message is on the bill, the brim or the strap. These savvy promotions are wardrobe mainstays all year long, so they never end up buried in a drawer.
6. Hand fans aren't confined to conventions anymore. These portable placards keep clients cool when the breeze dies down, and they display information about your business. Printed with a simple logo or a list of services, these hand-held signs are practical and inexpensive. Perfect for any sporting event.
7. Reusable water bottles are even better when they fold up. These clever containers feature smart collapsible designs, and they're don't pollute our Florida beaches like their disposable cousins. This promotional item never gets thrown in the trash.
8. Sunglasses are a stylish necessity on bright summer days. Colored classics show off your company's name along the earpiece, and aviators easily sport your logo on a lens corner. Customers really appreciate these thoughtful giveaways.
9. Coolers and carriers are more than great gifts. They're permanent fixtures on the warm-weather recreational scene. The range of models gives you plenty of budget flexibility, and they impart a real sense of value to your clients.
10. Nothing says summer fun like beach balls and frisbees. They bounce across the sand and fly through the air. They also carry your company's name wherever they land. These bright, inexpensive branding opportunities always capture attention.
Here at Roberts Advertising, we specialize in promotional items that your customers really appreciate. Whether it's a snappy ball cap or a pair of cool shades, you're giving away something that has value. Your one-time investment becomes a permanent marketing strategy, and it goes everywhere. That kind of advertising is priceless.