Most of our industry suppliers present new products and hot sellers at our big industry shows in Orlando and Las Vegas in January. I make it a practice to attend both annually.
Overall my impression is that our industry's capabilities are getting better and better. We are offering businesses of all sizes the ability to give away custom logoed items that the recipients will appreciate and keep longer allowing the message and the company's brand to remain top of mind with their audience.
Through our vast network of supplier's, we can do custom imprints on retail and retail-inspired items. Most popular categories that represent over 60 % of what our customers buy include wearables, drinkware, bags, writing instruments and business accessories. In apparel, both name brands and retail-inspired designs can be decorated in many ways often putting your company brand beside an internationally known brand like Under Armour, Adidas or Nike. Retail inspired insulated double wall drinkware is available in stainless steel, dishwasher, and microwave safe BPA free plastic and ceramic with full-color printing in many styles. Customizable phone chargers can now wirelessly charge the newer phones and the price point on the larger capacity items have dropped with their popularity.
Tangible promotional items have a place in this digital age helping businesses use a marketing tool that the buyers often would purchase on their own. As a marketing consultant specializing in promotional products, I feel that our team's added value is to assist our buyers in the selection process based on the marketing objective of their budget and their audience. Selection of the item often includes guidance in what is imprinted to make it a special custom piece. In my experience items that have the greatest impact on the recipient include the recipient's name on them. The name can be on the packaging but often on the item as well. Packaging makes a nice presentation, but the item is what is kept long term.
A trend that is great for our business customers is that we can source many more items that can include not just full-color custom decorating but even personalization down to the recipient's name. The price point to add the name is very close to having just the business logo on the item.
Above I mentioned the most popular categories being wearables, drinkware, bags, writing instruments and business accessories. These are all items that we can get personalized. Laser engraving and digital printing are two of several decorating methods that allow this to happen at very affordable price points.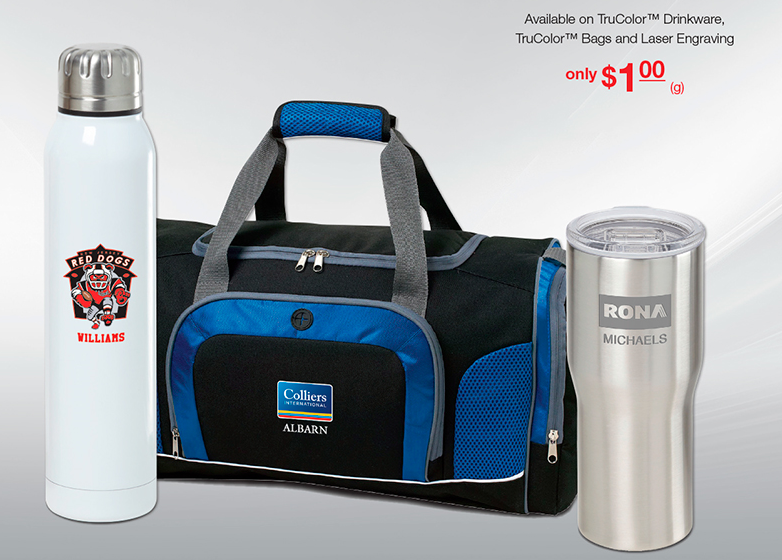 SWFL Marketing Group is a promotional product-focused marketing agency serving Lee, Collier, and Charlotte counties. We are happy to serve our customers in choosing custom branded merchandise and apparel to use at corporate events, including grand openings and trade shows. Check our online catalog and search tool for ideas to support your company's marketing campaign. Of course, you could call one of our team members for personal assistance or book an appointment either at your location or our office. We also encourage that samples be ordered to ensure you get the right items for your objective and to stand out in front of your audience.
Call us today to Help You Thank, Invite, Excite, Recognize and Reward Those Important to You!