Promotional products serve various advertising purposes, but business owners often get stuck on the proverbial ink pens with logos based on the premise that they are irresistible items that strategically find their way to unexpected places. This much is true, but advertisers who limit themselves to ink pens may be missing out on the true, far-reaching benefits of promotional products.
One of the best ways to formulate a promotional product strategy is to schedule some time with the designer. Small business owners who don't have sizable budgets to allocate for marketing consultants should be looking at their local provider of promotional materials for advice on product choice, artwork and distribution.
Thinking Beyond Ink Pens
Branded products are all about lifestyle. Those ubiquitous ink pens may serve an important purpose, but these days people often take down notes on their smartphones and tablet computers. Styluses that could be used with mobile devices had a brief splash as promotional products, but touchscreen resolution and quality have advanced to the point of making them unnecessary.
T-shirts, ball caps and other embroidery items are great promotional items as long as they are comfortable and in style. Some would-be advertisers are rightfully concerned about t-shirts and other wearable promotional products ending up being used as rags or pajamas and never leaving a prospect's home. The trick to getting around this is to choose quality, comfortable and stylish products that people will feel good about wearing everywhere.
Creating the Right Image
Printing a low-resolution and poorly designed logo on a stylish polo shirt is counterproductive. Promotional product designers usually have in-house art departments or connections with local graphic designers to this effect. The proper branding strategy with regard to artwork need not be a drawn-out affair; if speed is of the essence, a quick solution consisting of the right logo, color mix and typography can be formulated in just one day.
The Surprise Element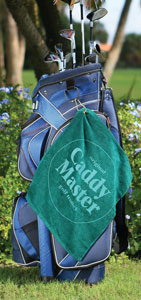 Putting a neat promotional item in the hands of a prospective customer who does not expect it can go a long away in creating brand awareness. Clients of luxury real estate firms, for example, probably expect to get an ink pen after looking at one or two properties. They may not be ready, however, to get a bag filled with thoughtful goodies. A gift bag with promotional items for the entire family, such as teddy bears for little children, candles for the lady of the house and a desktop organizer for her husband, will leave a long-lasting impression and may even help close a sale.
Likewise, an elite Golfing Community that wants to entice new buyers could offer an open round of golf and then give a gift of a golf bag, or other golfing goodies, all with the community logo.
The grand opening of a venue may also be an occasion for something more memorable. Depending on the location and type of business there are numerous options to choose from. Contact us for some ideas, or browse through our website for the perfect memorable gift.
Taking the Plunge
Promotional product designers love to work with first-time clients, particularly with those who are testing the power of branded products for the first time. Getting promotional items made is a lot easier than it seems, and small business owners are particularly impressed when they start hearing their phone ring or their websites register increased traffic shortly after distributing their products.