You might be someone sitting in front of your desk figuring out the best product to promote your business or a CEO who is still undecided whether promotional products are worth the investment.
No matter the size of your business, finding the appropriate strategy or tool to promote your brand is very important. So, consider the $20 billion American businesses spend each year for promotional products. They don't spend it to throw away, they spend it because it actually works! These items are your walking billboards and daily reminders to your customers.
Let's say you've decided to get promotional products. The next question will be what product should you choose? Consider these questions: Is it relevant to your company? Is it useful? Is it valuable? Is there something unique about it that may help your customers easily distinguish or recognize your company?
Rainy season is approaching and an umbrella could be the best gift at this time of the year to promote your business. It might be a Thank You gift or simply an appreciation to your customers. This item and others that we recommend are useful to the recipients and provide an effective promotional item for many business objectives – reward activity (like a purchase or a referral), a launch of a new product, employee rewards or corporate gifts.
Below are a few reasons why you should choose promotional umbrellas: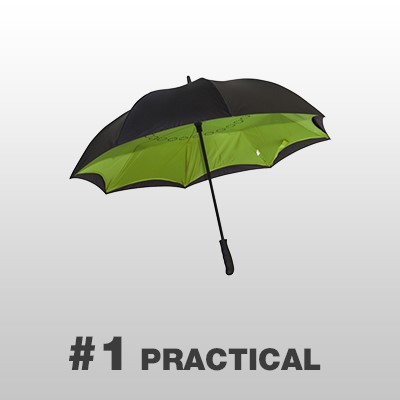 Umbrellas have a specific function that cannot be easily replaced by any other item.  People who don't have an umbrella and get caught in the rain may use a book, coat or handbag, but these will never take the place of an umbrella.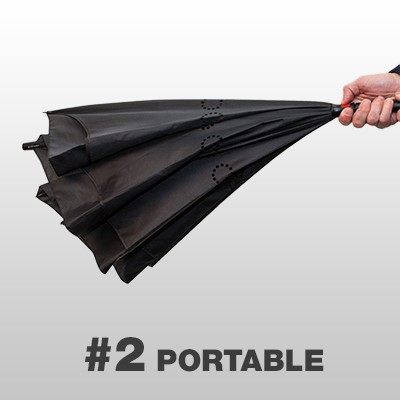 Umbrellas are ideal because they are light items, thus, making it convenient and easy to carry around.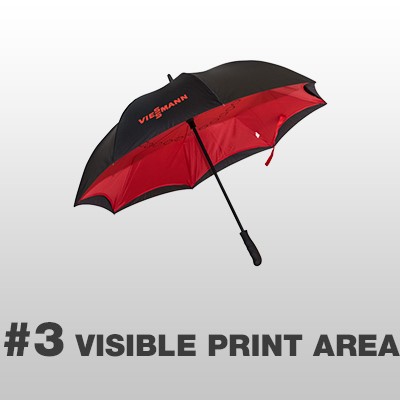 Umbrellas feature a large area for your company's logo and when they're opened, your company's name will be displayed very prominently.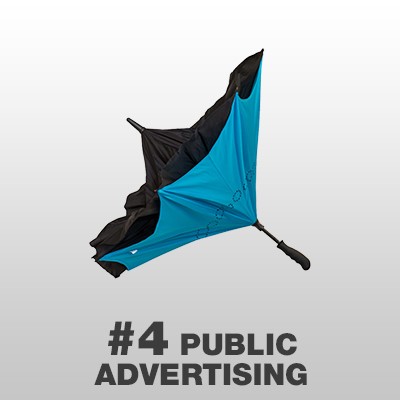 Umbrellas are designed to be used outdoors, so your company's brand can be seen by the whole community and will raise awareness of your company. Every time the recipients use it, they parade your brand's name everywhere they go.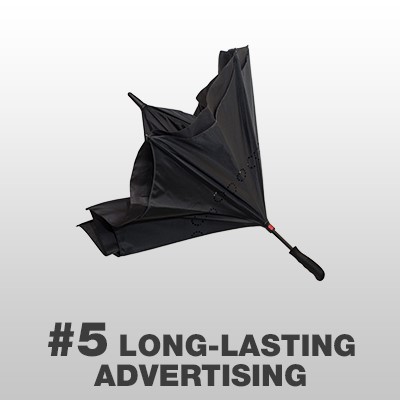 A well-made umbrella can last for several years and will be used by the recipient. It is an item that will advertises your company on a long-term basis.
Convinced that promotional umbrellas would benefit your company?
We have a perfect and unique umbrella that's just new in the market that any recipient would surely love!
The Rebel umbrella is a 48″ arc inverted style umbrella that offers contrasting color on the underside. It is a fashion-style umbrella especially built with pongee fabric. It's reverse open will keep your recipient dry even when the umbrella is wet. Granting an effortless way to close when entering or leaving a car or door, this umbrella is designed with a straight rubberized finger-grip handle.
SWFL Marketing Group is a promotional product focused marketing agency serving Lee, Collier and Charlotte counties. We are happy to serve our customers in choosing custom branded merchandise and apparel to use at corporate events, including grand openings and trade shows. Check our online catalog and search tool for ideas to support your company's marketing campaign. Of course you could call one of our team members for personal assistance or book an appointment either at your location or our office.  We also encourage that samples be ordered to ensure you get the right items for your objective and to stand out in front of your audience.
Call on us today to Help You Thank, Invite, Excite, Recognize and Reward Those Important to You!