Have you ever heard of the 6P Rule?
Prior Proper Planning Prevents Poor Performance
Let us be a resource for your Organization – Please share this post with those that plan or implement your appreciation and recognition events.
As we approach the second half of 2022 and for some of us a time to take family vacations and perhaps host appreciation parties it also may be a good time to review annual plans made and set up for success for the rest of 2022. I would like to share this small business owner's perspective around supply chain problems and staffing shortages as it shares much in common with planning ahead. Our business is impacted by supply chain problems as we source physical items for our customers and then have them custom decorated and because inventory levels do fluctuate, and staffing shortages impact our partners our delivery times are affected. To not have this affect our customers our policy is to not accept orders that will not arrive on time for our customer based on their need. We absorb the necessary work to ensure timely delivery by making it our job to confirm 1st choice option will arrive on time or come up with an acceptable alternative. An ideal situation is that in these times our customers that need to order any customized merchandise or apparel allow more time to do so. There are significant benefits to planning early including minimizing a poor outcome. While writing this I looked up the 6P rule which says Prior Proper Planning Prevents Poor Performance (Google helped me with the name and the complete line). Here are some timeline and buying tips which might help your performance or your end users perception of your company. I am sharing this as a consultant in the area of customized merchandise and apparel and often signage and packaging that support events so not including planning time around campaign objectives, audience and budgeting which should happen before only the selection of items, decoration and delivery so add other items to the timeline as appropriate.
Sample suggested timelines are shown below for a client appreciation event with an event date of November 17, 2022 (one week before Thanksgiving)- this could be internal employees, board members, volunteers, etc.
Here is a visual timeline sorted by when to begin researching what to order for your campaign until the date of the event.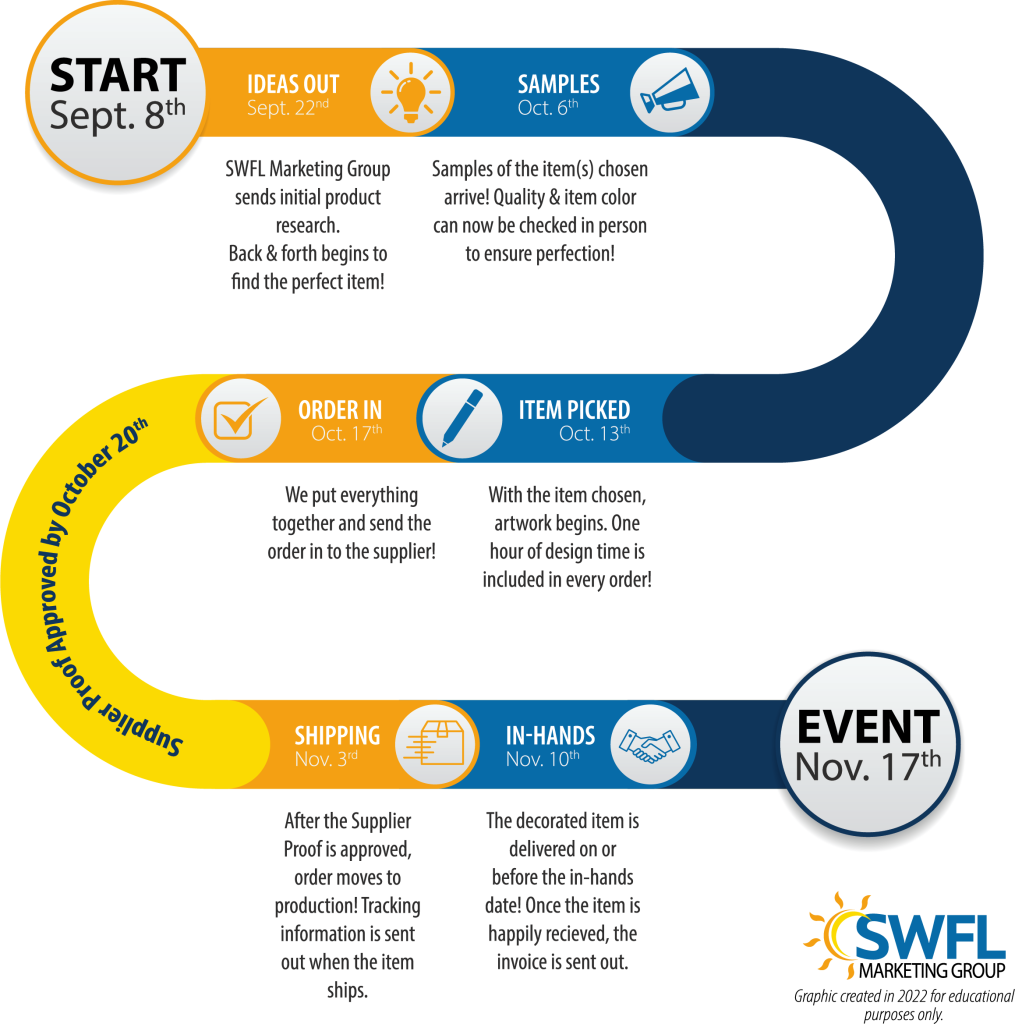 Here is the same timeline written out from the finish working backwards and the dates are left blank
All goods to arrive one week before for quality check, packaging set up, etc.
All goods to ship out one week before, in this example a 3-day ship + 2-day cushion.
All goods order processing started early – 10 business day production (we confirm the actual production date of each individual item to ensure we are within our timeframe) when placing order if longer order needs to go in earlier.
Decision made on orders based on inventory available and production times to allow for layout and design finishing touches.
Alternative samples arrive for review by team (one week)
Ideas from SWFL Marketing Group of items that could be considered for the event, we try to allow 2 weeks to review, refine list, and get samples in of first choice options.
Original request for ideas for items to support the event and allowing 2 weeks to discuss objectives, audience, and budget and come up with ideas that fit. This could include how items are decorated, event location, and item ship to location if some may be needed elsewhere.
This is a sample timeline which, if used, will be customized to suit your organization's needs. Just the execution of part of an event plan as simple as logoed jackets or engraved tumblers needs to be started at least 70 calendar days before your event.
Of course, we deal with timelines we are given, but the final result will be much better and achieved with much less stress when planning has begun early.
While I am at it, calendars are one item that can be ordered early to save money as well. Do you want to have your message and information in front of your audience for a full year?
Consider a customized calendar!
Here is information from one of our favorite suppliers that has an early order deadline coming up with a significant saving should your organization want to use calendars during 2023.
They say the early bird catches the worm. In the case of calendars, they also secure the best price. Now is the time to place your order for 2023 calendars with Koozie Group before our early-order pricing expires on July 1.
5 Reasons to Order Your Calendars Today!
Save Money – Lock in early-order pricing.*
Best Selection – The styles and themes you want are guaranteed to be in stock.
Free Storage – We'll store orders until fall.
Peace of Mind – Calendars will be ready for distribution when you are.
Be First – Get your calendars on your customer's wall first.
Additionally, the paper market is currently very volatile, and we are experiencing monthly allocations, shortages or delays, and frequently changing costs. More good reasons to order your calendars now to avoid issues this fall.
*To receive early-order pricing, all calendar orders must be production-ready by Friday, July 1, 2022, or late pricing will apply. This means orders cannot be in clarification, proof approval, or on credit hold, so be sure to wrap up all these details before July 1 to secure the best price.

**According to a MarketSight® Survey, April 2019
We invite you to find out more about us and recommend you start planning how to use customized items early rather than last minute.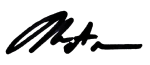 Martin Pahnke, MAS
Cell 239-316-9367 | Office 239-437-4370 x2
SWFL Marketing Group